Fifty times Jeremy Corbyn stood with Jewish people  https://www.jewishvoiceforlabour.org.uk/article/fifty-times-jeremy-corbyn-stood-with-jewish-people/
Jeremy Corbyn's voting record against antisemitism – better than 82% MPs
Briefing for canvassers: Challenging false allegations of antisemitism https://www.jewishvoiceforlabour.org.uk/statement/rebuttals/
Labour conference: speakers and members line up to support Corbyn against his accusers   https://voxpoliticalonline.com/2018/09/24/labour-conference-speakers-and-members-line-up-to-support-corbyn-against-his-accusers/
As a British Jew I'm not fearful of a Corbyn government but I'm horrified at how antisemitism is being used against him  https://www.patheos.com/blogs/writingfromtheedge/2019/11/as-a-british-jew-im-not-fearful-of-a-corbyn-government-but-im-horrified-at-how-antisemitism-is-being-used-against-him/
Orthodox rabbis' statement in support of Jeremy Corbyn https://skwawkbox.org/2018/09/10/orthodox-rabbis-statements-in-support-of-jeremy-corbyn/
Jeremy Corbyn remembering Cable Street  https://www.facebook.com/DanCardenMP/videos/774891766033589/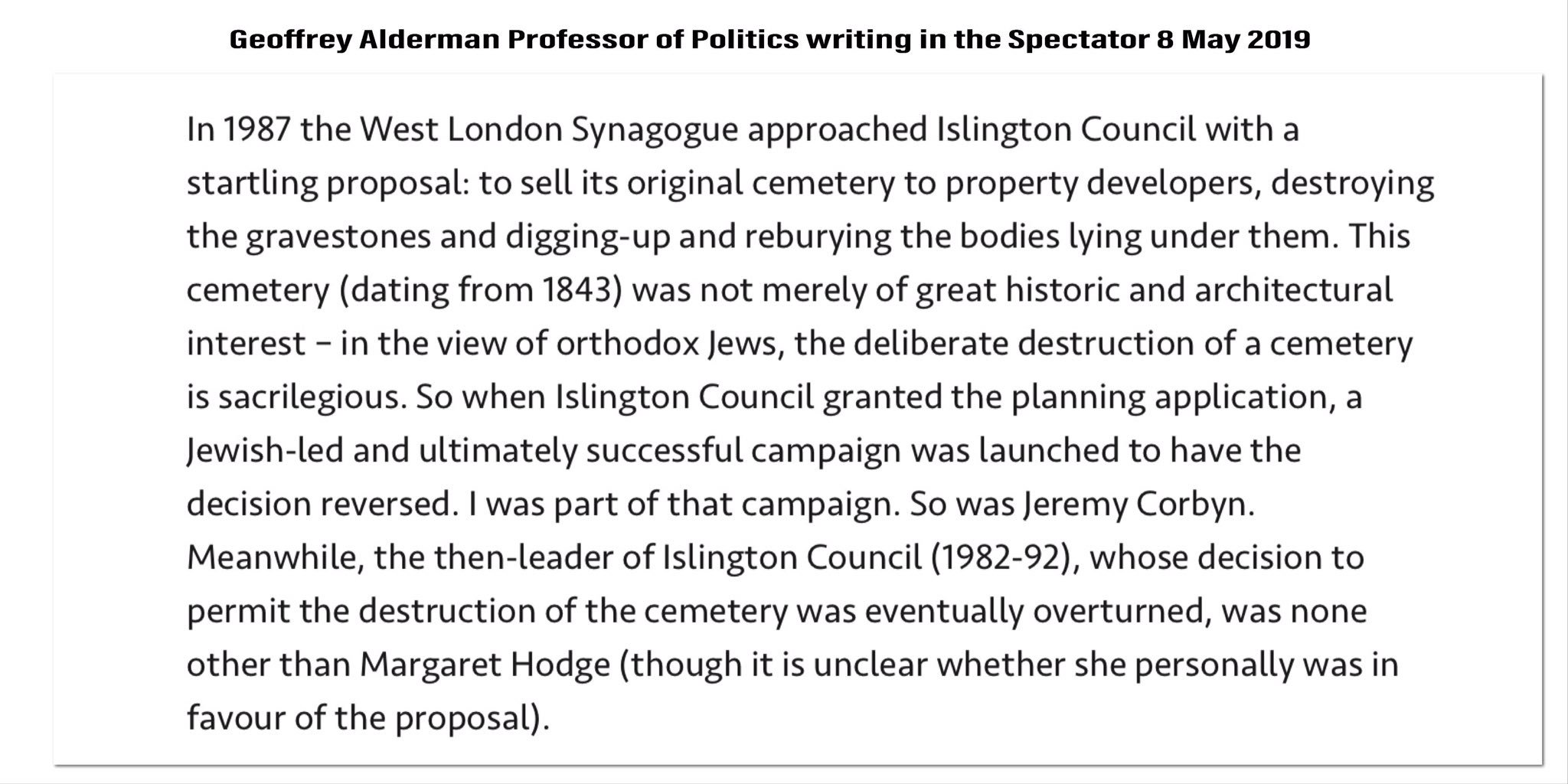 In April-May of 2002, Jeremy Corbyn led a vigil & clean-up operation of Finsbury Park Synagogue after it was attacked & graffitied. He also raised it in parliament & laid down an EDM on the matter.  https://edm.parliament.uk/early-day-motion/20373
6 Dec 2016  'Never forget', says Jeremy Corbyn on visit to Theresienstadt concentration camp  https://www.thejc.com/news/uk-news/never-forget-says-jeremy-corbyn-on-visit-to-theresienstadt-concentration-camp-1.337882 via @jewishchron
Jeremy Corbyn helped organise demonstrations against antisemitic racists such as  'The Battle of Wood Green' 23rd April 1977  https://kmflett.wordpress.com/2017/04/21/jeremy-corbyns-role-in-organising-opposition-to-fascism-at-the-battle-of-wood-green-23rd-april-1977/
"Jeremy Corbyn's Labour is a crucial ally in the fight against antisemitism" | Letter from over 200 Jewish members and supporters of Labour Party  https://www.theguardian.com/politics/2019/feb/20/jeremy-corbyn-labour-party-crucial-ally-in-fight-against-antisemitism?CMP=share_btn_tw
Guardian defends not publishing 205 Jewish women's complaint over Margaret Hodge antisemitism claims  https://www.thelondoneconomic.com/news/guardian-defends-not-publishing-205-jewish-womens-complaint-over-margaret-hodge-antisemitism-claims/20/03/
"Jeremy Corbyn is an anti-racist, not an Antisemite" says Joseph Finlay, the former Deputy Editor of the Jewish Quarterly  https://www.jewishvoiceforlabour.org.uk/blog/jeremy-corbyns-record/ via @jvoicelabour
A letter from 12 Holocaust survivors, defending Jeremy Corbyn https://dorseteye.com/a-letter-from-12-holocaust-survivors-defending-jeremy-corbyn/
As a Jewish Labour member, I'm sick of anti-Semitism claims against Jeremy Corbyn  https://www.independent.co.uk/voices/jeremy-corbyn-anti-semitism-labour-conference-jewish-supporter-vote-political-weapon-a7330891.html
Is Jeremy Corbyn really anti-Semitic? | Coffee House https://blogs.spectator.co.uk/2019/05/is-jeremy-corbyn-really-anti-semitic/
Short introduction for the Battle of Ideas debate on Antisemitism Today   https://www.patreon.com/posts/my-short-intro-24853919
WitchHunt – The silencing of Pro-Palestinian UK Labour Party activists. Watch here – http://tinyurl.com/y6gzbmrt  Download here – http://tinyurl.com/y54uoemu 
The image that actually defines Labour's relationship with Judaism https://dorseteye.com/the-image-that-actually-defines-labours-relationship-with-judaism/
Jewish Labour member: Enough of these disgraceful slurs against Jeremy Corbyn  https://www.opendemocracy.net/uk/shaun-lawson/enough-of-these-disgraceful-slurs-against-jeremy-corbyn
"The idea that Jeremy Corbyn is an antisemite is, quite frankly, idiotic…"  says Jewish Labour member Professor Annabelle Sreberny  pic.twitter.com/VnlYBU8KvA
Another view from a Jewish Labour member – who lost almost her entire family in the Holocaust – challenging accusations of widespread Labour anti-semitism  https://youtu.be/FNlSikeztXw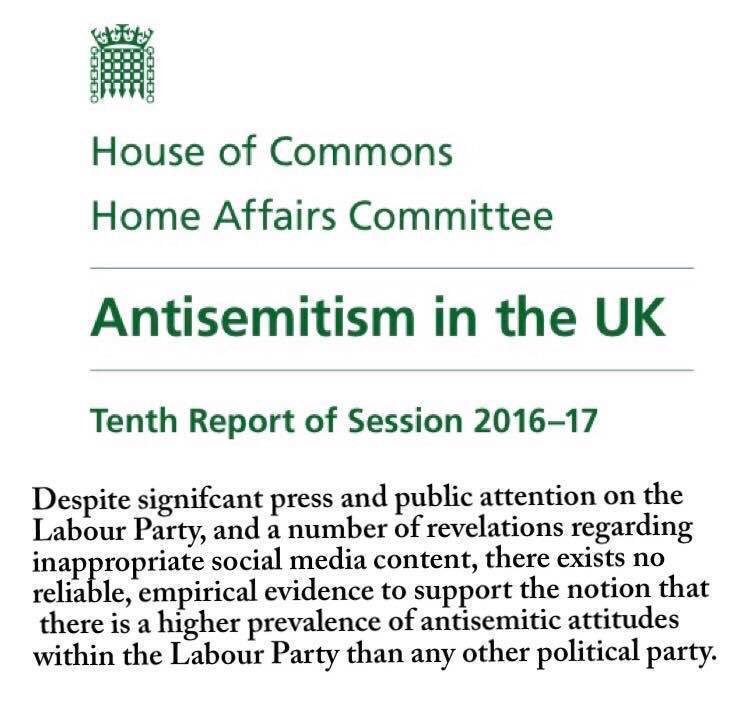 Antisemitism: no justification for singling out Labour https://www.jewishvoiceforlabour.org.uk/blog/antisemitism-no-justification-for-singling-out-labour/  via @jvoicelabour
The article by Jews on Labour's efforts against antisemitism that LabourList refused to publish  https://skwawkbox.org/2019/02/08/the-article-by-jews-on-labours-efforts-again-antisemitism-that-labourlist-refused-to-publish/  via @skwawkbox
Charges 'Without Merit' – Jeremy Corbyn, Antisemitism, Norman Finkelstein and Noam Chomsky   https://www.mintpressnews.com/charges-without-merit-jeremy-corbyn-antisemitism-norman-finkelstein-and-noam-chomsky/249439/
Jewish Voice for Peace, 84,576 followers on Twitter, liked by 535,000 on Facebook " … the claim that therefore (Labour) party would "be seen by all decent people as an institutionally racist, anti-semitic party" is simply wrong"  https://morningstaronline.co.uk/article/open-letter-jewish-voice-peace#.W4eZsgL6N4V.facebook
Corbyn's voting record shows smear could not be more misleading  https://skwawkbox.org/2018/03/23/corbyns-voting-record-shows-mearone-smear-could-not-be-more-misleading/  via @skwawkbox
Stop Jeremy Corbyn's mistrial by media over antisemitism | Letters from More than forty senior academics  https://www.theguardian.com/…/stop-jeremy-corbyns-trial-by-…
Labour antisemitism has gone DOWN since Corbyn was elected   https://evolvepolitics.com/yougov-polls-show-anti-semitism…/ EvolvePolitics 
40 facts about 'Labour antisemitism' the public needs to know and isn't being told  https://skwawkbox.org/2019/02/05/40-facts-about-labour-antisemitism-the-public-needs-to-know-and-isnt-being-told/ via @skwawkbox
40+ Jewish groups worldwide oppose equating antisemitism with criticism of Israel https://jewishvoiceforpeace.org/30jewishgroupsbds/
BBC cornered over 'biased' coverage of anti-semitism row  https://morningstaronline.co.uk/article/bbcs-%E2%80%98lack-impartiality-and-inaccuracies%E2%80%99-reporting-hodges-claims-against-corbyn-condemned
The Shami Chakrabarti Inquiry  https://labour.org.uk/wp-content/uploads/2017/10/Chakrabarti-Inquiry-Report-30June16.pdf
BBC News – Labour adopts full anti-Semitism definition   https://www.bbc.co.uk/news/uk-politics-45414656
And for a well-researched and scholarly article – Enough is Enough: Rachel Riley, GnasherJew, and the Political Weaponisation of Antisemitism  https://medium.com/@shaunjlawson/enough-is-enough-rachel-riley-gnasherjew-and-the-political-weaponisation-of-antisemitism-5251bb1adec5
Thread by @arryTuttle: "Okay. Here is goes. (1) Professor Norman Finkelstein, a jewish academic, both of who's parents were holocaust survivors is apparently an antisemite and it was his cartoon which Naz Shah retweeted and which was falsely miscontextualised as […]" https://threadreaderapp.com/thread/1082923983228620800.html
Detailed thread outlining Corbyn's long history of fighting antisemitism (dates and events) by @BlogRedRobin  https://twitter.com/BlogRedRobin
Labour – No place for antisemitism  https://labour.org.uk/no-place-for-antisemitism/
By comparison:
Theresa May said in July 2018 that the Conservative party had adopted the full definition of antisemitism used by the International Holocaust Remembrance Alliance (IHRA) … but FactCheck: "The Conservative party code of conduct does not expressly mention antisemitism once – let alone define it"  https://www.channel4.com/news/factcheck/factcheck-conservative-party-rulebook-doesnt-mention-antisemitism
Anti Semitism in Labour Party? Probably. Anti Semitism in Tory Party and Establishment? Absolutely   https://dorseteye.com/anti-semitism-in-labour-party-probably-anti-semitism-in-tory-party-and-establishment-absolutely/  via @Dorset Eye
According to the Institute for Jewish Policy Research, anti-semitism is higher in UKIP, Conservatives and even in LibDems than in Labour.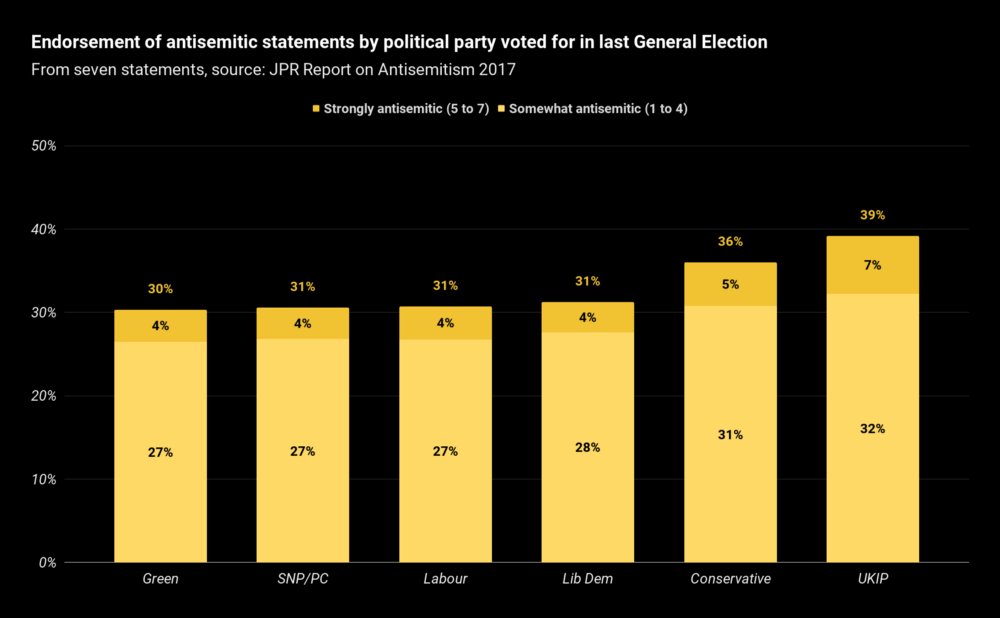 Jewish leaders condemn Tories over vote to defend Hungary's far-right Orban government   https://www.independent.co.uk/news/uk/politics/conservative-orban-hungary-jewish-deputies-board-antisemitism-tory-british-meps-eu-vote-latest-a8535846.html
Evidence of Conservative antisemitism, racism and islamaphobia   https://leftgreen70.wordpress.com/a-list-of-articles-from-2001-to-2018-about-racism-in-the-conservative-party/
… and just in case people are equating criticism of Israel with antisemitism
40+ Jewish groups worldwide oppose equating antisemitism with criticism of Israel  https://jewishvoiceforpeace.org/30jewishgroupsbds/
"This racist new law makes me ashamed to be Israeli" by Daniel Barenboim  https://www.theguardian.com/commentisfree/2018/jul/23/israel-racist-new-law-ashamed-apartheid-daniel-barenboim?CMP=share_btn_tw
The late Sir Gerard Kaufman, many of whose family died in the Holocaust, comparing Israel to Nazi Germany   https://youtu.be/qMGuYjt6CP8